Consultant | Keynote Speaker | Videocast/Podcast Host
I help technologists achieve company-wide digital transformation by consulting with them to leverage cloud and cybersecurity technologies.
Nearly every technologist I have worked with is fighting a constant battle of working to accelerate IT innovation while mitigating business risks and managing their budget.
As I partner with my clients, we start with outcome definition and outline required capabilities for project success. Together we drive towards a sound business strategy to implement digital transformation across the entire enterprise.
Work With
Rebekah Panepinto
.
Cloud and
Cyber Security Consultation
.
Start with outcome definition and outline required capabilities for project success.
Together we accomplish large cloud and cyber security initiatives and drive towards digital transformation across the entire enterprise!
Book Rebekah Panepinto to speak. Technology leadership is paramount to driving relevant and disruptive organizations.
Gain an understanding of what your organization needs to be innovative within the enterprise today.
Interviews with Technology Leaders on          The Rebekah Panepinto Project
.
Show guests are impacting the enterprise as they strive for business success by utilizing technology, influencing industry innovation, and reshaping the future of how every company can pursue cybersecurity and becoming cloud native.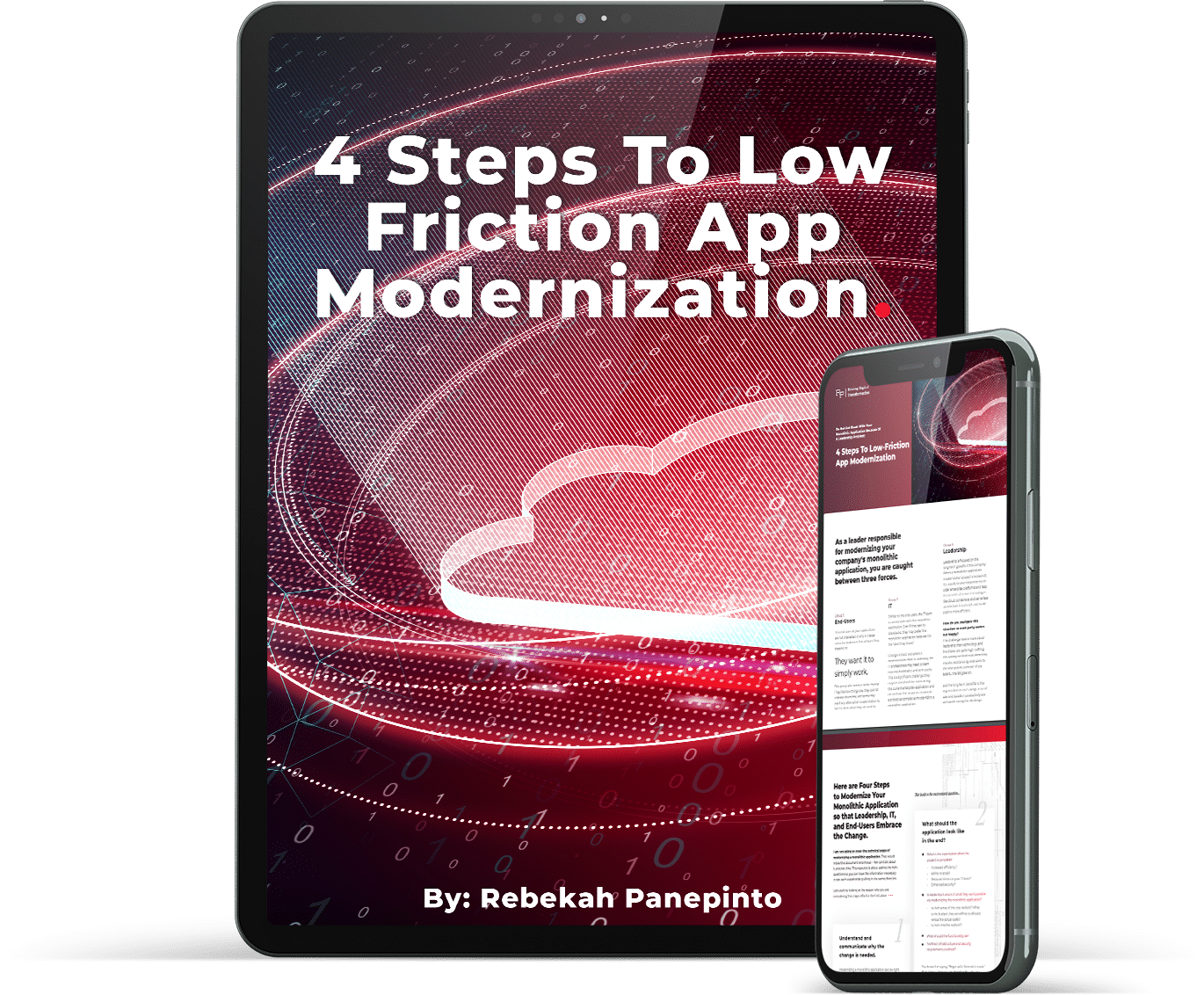 4 Steps To Low-Friction App Modernization.
Do Not Get Stuck With Your Monolithic Application Because Of A Leadership Problem. Download Rebekah's free guide today. 
Join Rebekah On
The Rebekah Panepinto Project
.
Topics Rebekah Loves Chatting About
.
Cloud Migration and Adoption
Migrate Business, Not Servers
Migrating to cloud technology and leading adoption across the enterprise.
Application Modernization
Microservice architectures for speed and scale
Improving legacy infrastructure and manual processes by leveraging cloud technology.
Cloud Native Software Development
Loosely coupled and independently deployable
Self-healing, auto-scaling applications, unchained from server limitations.
Artificial Intelligence and Machine Learning
Intelligent and actionable data as well as analytics
It is powerful when companies are able to turn their data into a tool for driving innovation.
Cloud Cost Optimization
Maximize the return on investment
Understand what cloud costs and how to get the most out of the initial investment.
Multi-Cloud Strategy
Which is the best strategy?
Is a multi-cloud strategy really the best for the enterprise?
Managing Cloud within Regulations
Understanding technology regulations
Healthcare is an industry thriving with digital transformation. You simply have to stay within a few bounds.
Cyber Security Starts with Individuals
Avoid Attacks
Most breaches can be avoided by focusing on your workforce and their internet safety habits at home.
DevOps
Developer-friendly operations
IT operations are run separately yet in a way that is much more conducive to developers.
Book Rebekah to Speak at Your Next Event
.
Rebekah loves to share her passion for technology and the nine topics shared above with audiences all over the world
.